Asphalt Management Inc. will work with your business to create a custom plan to handle your commercial snow removal needs, whether your company requires snow plowing, ice control applications, snow removal and hauling, sidewalk clearing, de-icing, snow shoveling or snow blowing, it only takes one call to keep your operations safe and running smoothly around the clock.
We have a large fleet of commercial grade snow plows and commercial grade snow pushers that our reliable and experienced staff utilize 24 hours a day.
We have zero-tolerance for snow and ice and specialize in consulting on complete winter services.
Accurate records kept in order to protect your company from spurious claims
Inspections are done during and after every snow and ice event for quality and safety
One of the largest snow removal companies in the area
Over 25 years of snow and ice management
Serving Genesee County and surrounding areas
Large fleet of equipment
Postseason site inspection and repair
Fully insured with proof of current coverage
The types of facilities we handle include, but are not limited to:
Retail establishments
Restaurants
Corporate office complexes
Hospitality facilities such as hotels, motels and other types of lodging
Warehousing and distribution centers
Medical facilities
Entertainment and sporting venues
Homeowners' associations
Educational facilities
Convenience stores and fueling stations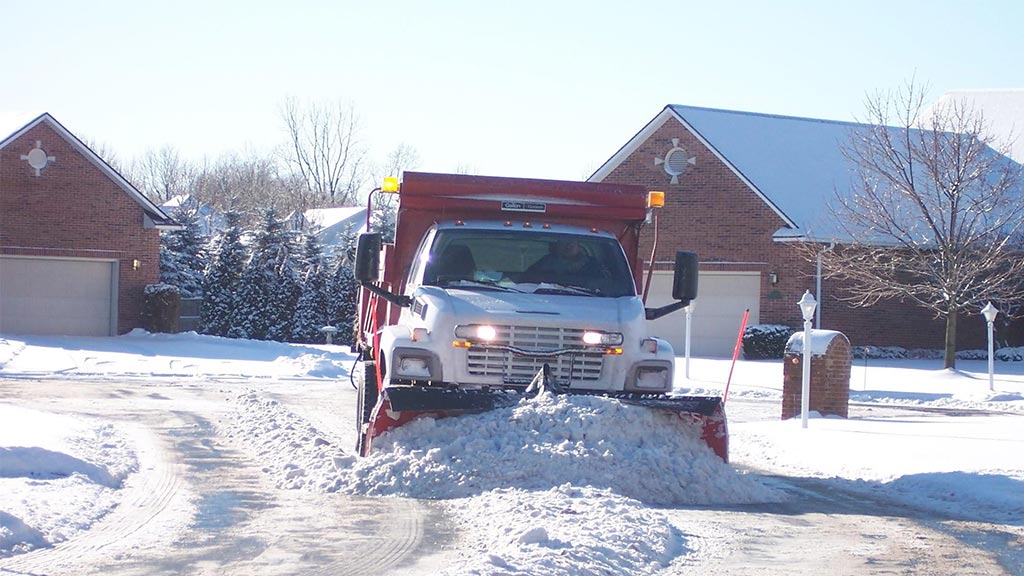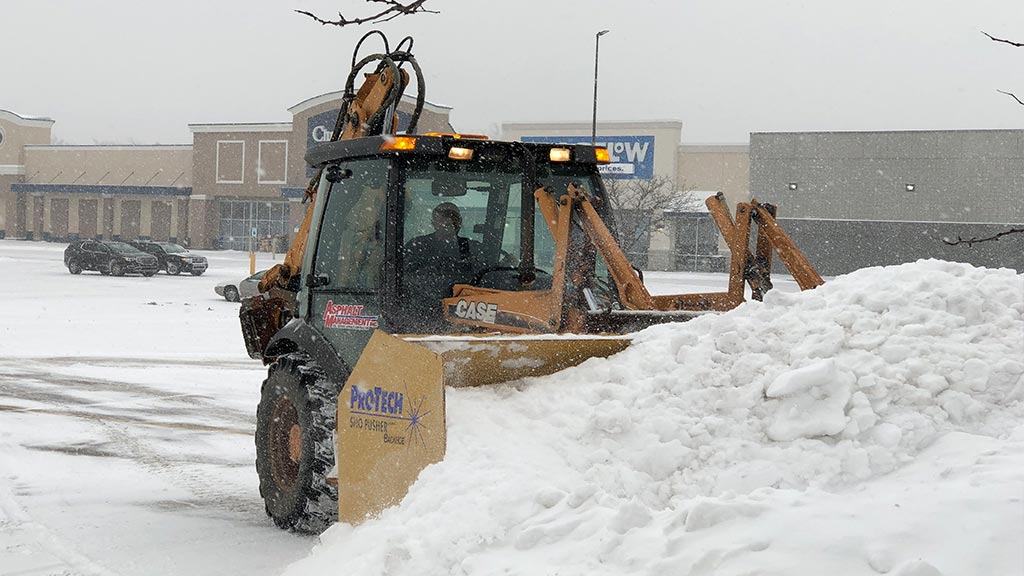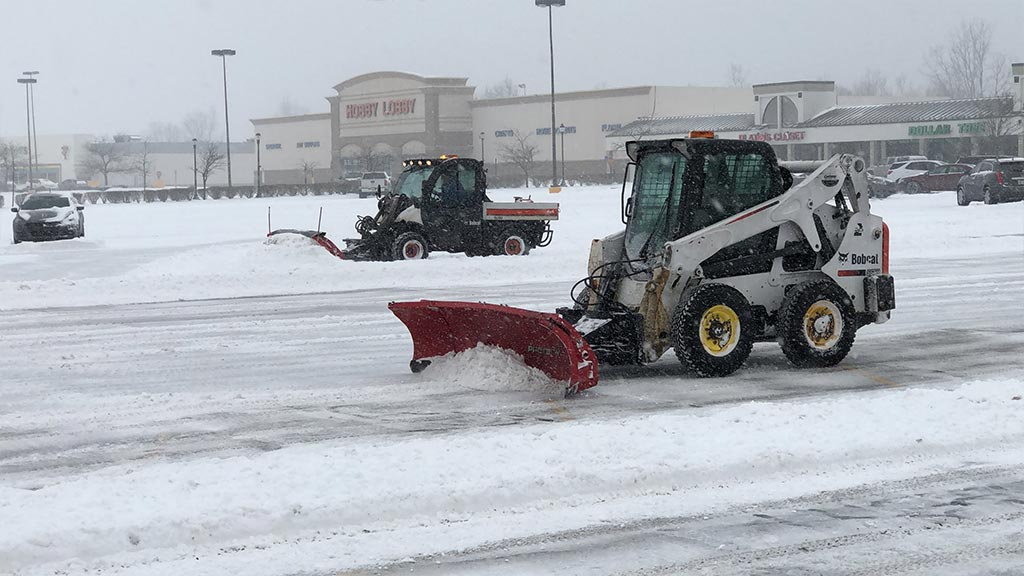 To provide a safe winter environment while delivering outstanding customer service. To be an industry leader by using the latest technology, products, state of the art equipment and continuous education to give innovative solutions to our customer's needs. Also, to provide professional and timely service to ensure your access roads, parking lots, sidewalks, shipping docks, and other critical areas are accessible preventing costly production and delivery delays, keeping you open for business, and helping alleviate the inherent risks and hazards associated with snow and ice.
First priority on every job is to maintain safe surfaces for customers and employees
Specific preseason site training with a designated workforce
Site dedicated supervisors to assure consistent, quality service
Parking lot assessments and inspections completed during each event
Weather Monitoring 24 hours a day, 7 days a week.
Commercial snow removal equipment
Our large fleet of equipment includes:
Front end loaders
Rock salt storage
Sidewalk salt dispensers
Commercial grade sweepers
Snow pushers
20 ft. containment box
V-plows
Commercial grade snow blowers
Skid steers equipped with plows, buckets, scoops, and brooms
Dump trucks with plows and salt spreaders
All-terrain vehicles (ATVs) with snow plows and salters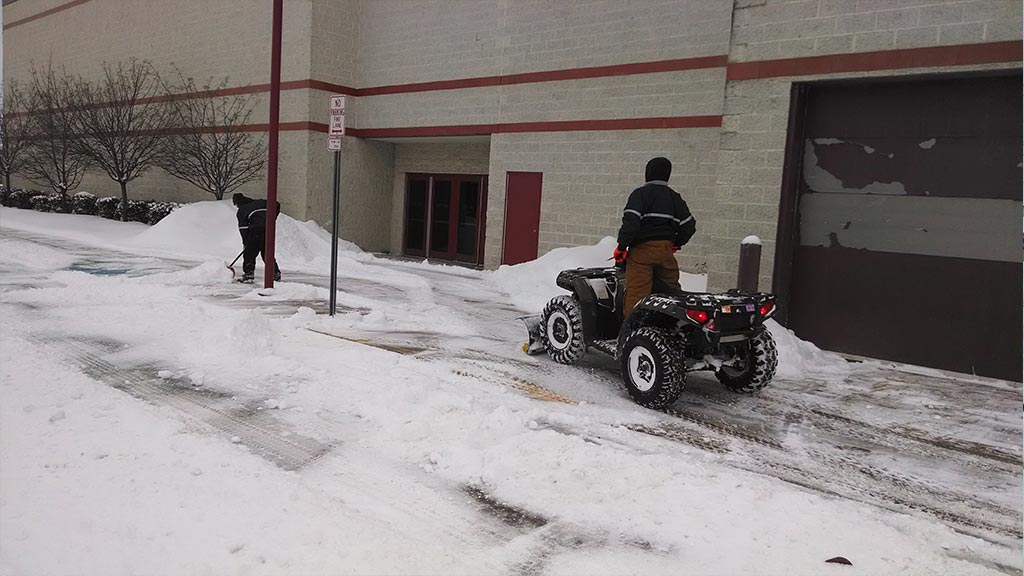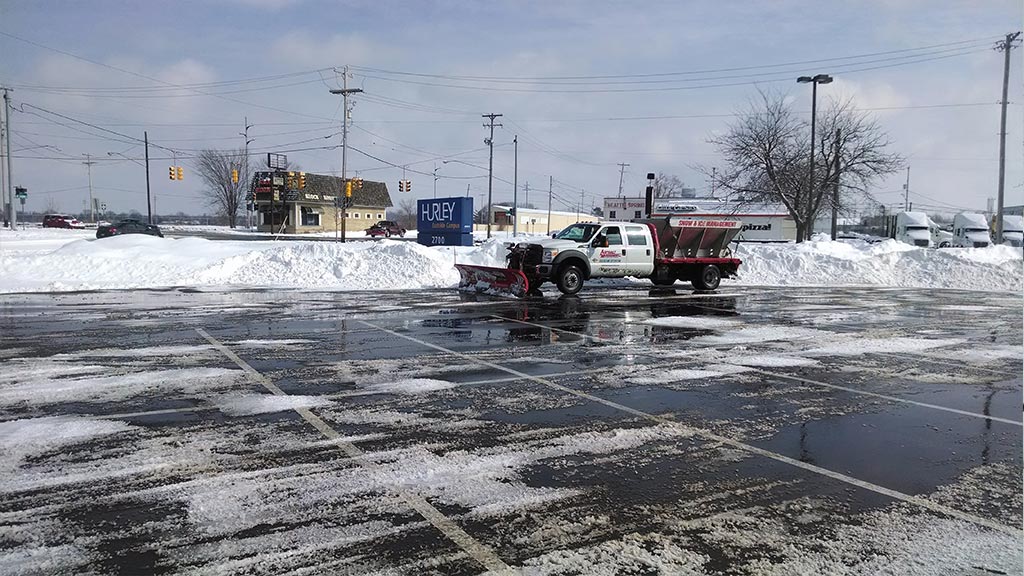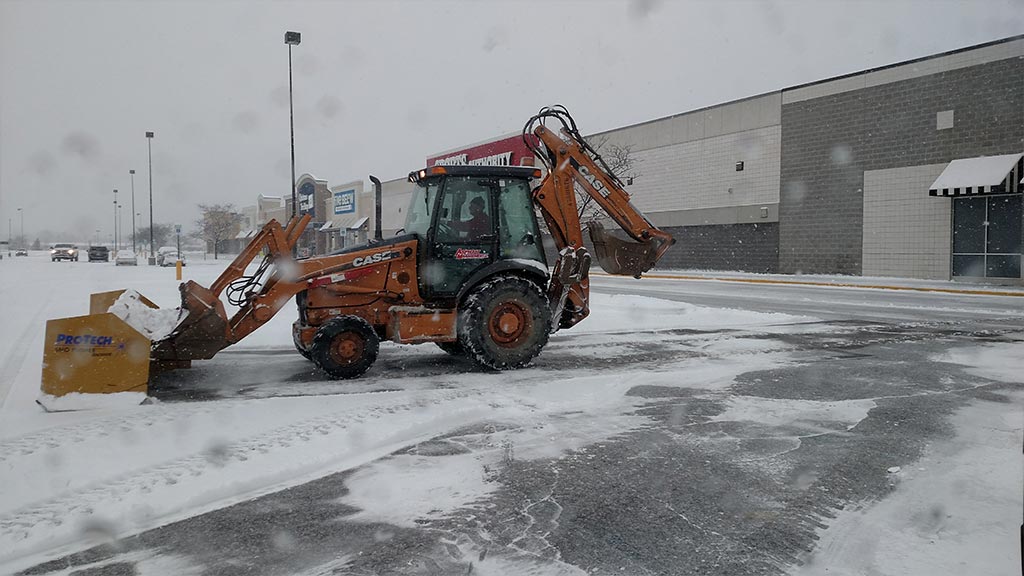 Snow removal action plan:
Over the years we have established a zero snow and ice tolerance policy. We monitor the weather 24 hours a day 7 days a week. When a storm hits we dispatch our crews to keep all aisles, walkways and open areas clear of snow by plowing and applying de-icing materials as long as the storm continues. After the snowfall stops we continue working for you until all areas are clear of snow and ice and all locations are inspected for quality and safety. Also after a storm, we continue monitoring the weather in case of any melting, refreezing or drifting of snow occurs. Following these procedures we make sure to keep your site free of snow and ice, accessible and safe to all your customers, tenants and all traffic. This technique has proven to be the most reliable and safe for all our clients.
Asphalt Management Inc. uses a wide variety of de-icing materials available to suit all your needs. Most popular material used on parking and driving areas is rock salt. A bigger concern is the sidewalk area of your property where slip and falls may occur or tracking of the material into your building which causes a mess. Asphalt Management Inc. uses a variety of environmentally friendly products that are specially formulated to minimizing the risk of damaging your landscape, corrosion, refreezing or tracking of material into your building while melting snow and ice quickly and maximizing traction.
Using proper snow plowing equipment is also critical to a successful snow plowing operation. We are able to assign the best-suited plowing equipment required by the size and layout of your site. Before the snow season begins we have an engineered plan, ready for every one of our sites detailing which and what type of equipment is the safest and efficient for each property. The second part of our plan will be set in place a strategy on how each parking area will be plowed. This ensures a smooth operation during every snow and ice event.
Communication with our customers is the most important factor in the success of our company. Our number one goal is keeping lines of communication open between us and our customer at all times. You will be provided 24hr phone numbers to our staff who can be contacted day or night with any question or concern you might have. We have created enduring business relationships with all our customers which has led to the success of our company. Asphalt Management Inc. is here to help solve your snow removal needs.
Upon completion of the storm, Asphalt Management's crews will remain in place to perform cleanup of the properties. During this phase, anti-icing or de-icing materials will be applied to help prevent refreezing. Any properties requiring special attention or additional cleanup of remaining snow will be handled by the closest available team member in order to keep your lot clear and safe.
Each year, over one million Americans seek emergency room treatment for accidental falls. In fact, slip and fall injuries rank second to automobile accidents. Asphalt Management Inc. takes a proactive approach to snow removal operations in order to optimize safety and minimize unnecessary claims and lawsuits.